Ecolinguistic Approach to Teaching English for Specific Purposes.
Анотація
Introduction. This paper looks at language learning from an ecological perspective, which highlights the quality aspect of educational processes. Some essential concepts this approach focuses on are building ecologically holistic contexts, interaction, and quality. In language learning ecology, practice constantly draws on theory which is developing organically, as teachers and learners interact and learners cooperate among peers. Review of recent publications. The issue of ecolinguistics approach to teaching English for specific purposes has been covered in publications of such scientists as Einar Haugen, Hayward. T. and Wendel J. Objectives of the paper. The study is aiming at the issue and implementation of ecolinguistics approach to teaching English for specific purposes.
Посилання
Haugen. E. The Ecology of Language. Standfort: University Press. 1972. 332 p.
Wendel. J. Notes on the Ecology of Language. In: Bunkyo Gakuin University Academic Journal. 2005. № 5. P. 511–516.
Maria Arina Luardini, Erma Sujiyani. Introducing Ecolinguistics in EFL Classroom. Advances in Social Science, Education and Humanities Research. 2018. V. 262. P. 375–382.
Van Lier. L. The Ecology and Semiotics of Language Learning: A Sociocultural Perspective. Boston : Kluwer Academic Publishers. – 2004. – 260 p.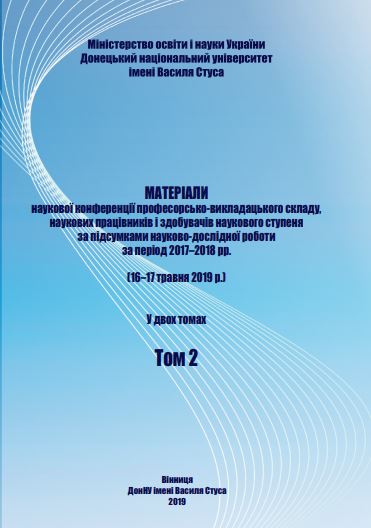 ##submission.downloads##
Розділ
Секція «Методика викладання іноземних мов»