Detection of masked bad words in social media content
Анотація
Social Media, is it a blessing or a curse? Many people will have different views on this matter, but one can never ignore the fact that it has a very big influence in people's lives in modern times. With the increase in popularity and availability of different social media platforms, more and more people are finding it easier and easier to communicate with each other all over the world. That is just one of the highlights of social media.
Посилання
Sara Owsley Sood, Judd Antin, Elizabeth F Churchill. Using Crowd sourcing to improve profanity Detection. AAAI Technical Report SS-12–06 Wisdom of the Crowd
Aouragh Si Lhoussain, Gueddah Hicham, Yousfi Abdellah. Adapting the Levenshtein Distance to contextual spelling correction. International Journal of Computer Science and Applications. March 2015.
Bouma H. Visual recognition of isolated lower-case letters, Vision Research, 1971, 11, 459–474
Sandip Modha, Thomas Mandl, Prasenjit Majumder, Daksh Patel, DA-IICT,Gandhinagar, India sjmodha@gmail.com , Overview of the HASOC track at FIRE 2019: Hate Speech and Offensive Content Identification in Indo-European Languages, FIRE 2019, 12–15 December 2019, Kolkata, India.
Shervin Malmasi, Marcos Zampieri. Detecting Hate Speech in Social Media, 26 Dec 2017, doi:arXiv:1712.06427v2 [cs.CL].
Arup Baruah, Ferdous Ahmed Barbhuiya, Kuntal Dey: IITG-ADBU at HASOC 2019: Automated Hate Speech and Offensive Content Detection in English and Code Mixed Hindi Text, 2019, pp. 12–15, doi: http://ceurws.org/Vol-2517/T3-7.pdf
Vijayasaradhi Indurthi1,3, Bakhtiyar Syed1, Manish Shrivastava1 Manish Gupta1,2, Vasudeva Varma11 IIIT Hyderabad, 2 Microsoft, 3 Teradata Fermi at SemEval-2019 Task 6: Identifying and Categorizing Offensive Language in Social Media using Sentence Embeddings
John Pavlopoulos, Ion Androutsopoulos, Nithum Thain, Lucas Dixon ConvAI at SemEval-2019 Task 6: Offensive Language Identification and Categorization with Perspective and BERT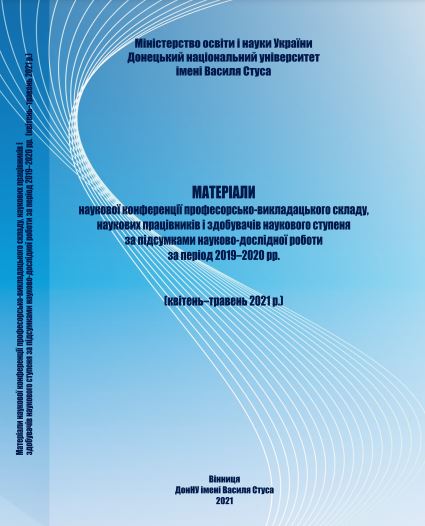 ##submission.downloads##
Розділ
СЕКЦІЯ «Інформаційні та прикладні технології»